Will the WildBlue satellite internet work on my computer?

Most computers today will meet our minimum system requirements. There are virus and spyware software free for PC with at least the following:
• 300Mhz or faster processor
• 128 Mb RAM
• Windows 98SE, ME, 2000, or XP
• 100 Mb of free hard drive space
• Ethernet card
How will I be billed for WildBlue?

Your WildBlue service will be billed on your Clearwater Power Company electric bill. The service is billed in advance. So the first bill will include the pro-rated balance of this month's service, and the full amount of next month's service.
Where will the WildBlue satellite dish be installed?

A standard installation includes a satellite dish mounted on a southern facing wall, dual coax cable run of less than 100' entering the structure from an outside wall. Installation does not include roof mounts, wall fishes, or attic crawls. The particular details of your installation will be discussed with you on site prior to installation.
Who Do I Call When I Have A Problem?

You just call our friendly customer care agents. We'll have a person you can talk to for technical support, 24 hours a day, 7 days a week at 1-888-278-6858 (toll free). If you have a billing question just call 1-888-743-1501, Monday – Thursday from 7:00 a.m. to 5:30 p.m.
What does WildBlue cost?

There are two costs - an up front fee to pay for the equipment and professional installation, and a monthly service fee (listed below) for the high-speed Internet access. The upfront fee for equipment only is $299.95.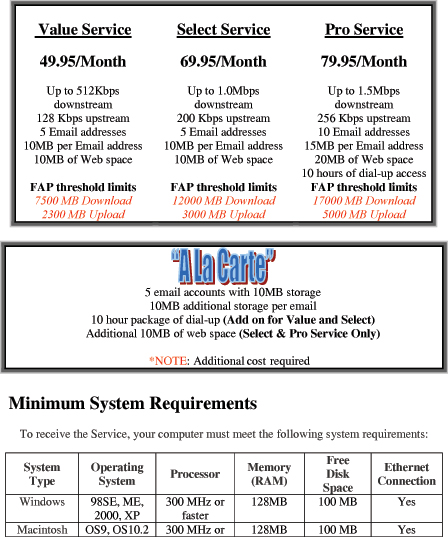 Why should I get WildBlue?

WildBlue provides access to the Internet at much higher speeds than dial-up access: up to 1.5 Mbps which is more than 30 times faster than dial-up. A whole new world of content will open up to you with your broadband connection. And with WildBlue, you get an "always on" connection which means no dialing-in or other delays to get high-speed access to the Internet.
How hard is it to use?

Not hard at all. Once we professionally install your WildBlue system, you are ready to surf the Internet at lightning fast speeds. You can use your same web-browser, go to the same sites, use your email, etc. just like you always have...but a lot faster! And it's always on so no more dialing-in delays, or getting "bumped off."
Can I get WildBlue service in a mobile vehicle like an RV or boat?

Not at this time. WildBlue service was designed for stationary locations like homes and small businesses. We do not offer broadband service for mobile vehicles at this time.
Do you offer a limited warranty on the equipment?

Yes. You will receive a 90 day labor/12 months parts limited warranty on all equipment at no charge when you become a customer. View our one-year limited warranty at http://www.wildblue.com/legal/limited_warranty.jsp
What is a fair access policy (FAP), and how does it benefit me?

FAP is the way WildBlue customer service monitors the total amount of data transferred. This protects you from other people using more than their share and slowing down your service
Does sending and receiving email affect my usage total?

Yes, any traffic transferred through your WildBlue service is counted in your usage total.
Does dial-up affect my usage total?

No, only traffic transferred through your WildBlue service is counted in your usage total.
How are users notified of the FAP policy?

When WildBlue identifies a Customer that has reached 80% of the 30-day rolling period usage threshold for their level of service, an email notice is sent stating they are approaching the limit. If the customer were to pass the threshold after a warning has been issued, then WildBlue will slow the service in accordance with the Fair Access Policy (FAP).
How do FAP levels relate to the "speed" of the WildBlue Service?

The FAP Levels indicate the amount of usage any account may have within a 30-day rolling period and the speed indicates an "up to" amount at which that usage may occur. If the usage limit is exceeded within the 30-day rolling period, the speed is reduced until the usage limit is again under the 30-day threshold.
How does the 30 day rolling calendar work?

Based on an analysis of typical customers, we have set a rolling 30-day limit on data usage per customer, called a Usage Threshold. For each service plan, the Usage Thresholds are significantly above the amount of data that is used by a typical customer. Every day, your upload and download data usage is measured ("Actual Usage") to determine if your total Actual Usage, as aggregated over the previous 30 days ("Usage Total"), exceeds the Usage Threshold for the service plan that you selected.
I only use my WildBlue service casually.
How could my service have used all that bandwidth?

Unfortunately, since we are not monitoring the content, we have no way of telling you how this is occurring. Common causes of high usage are:
• Use of a webcam
• Downloading full length movies
• Downloading large quantities of music files or full software applications.
• It is also possible that your computer is compromised and is being used
maliciously. Trojan viruses, Windows vulnerabilities or unsecured wireless
connections can allow unauthorized access to your network and should be
investigated as a possible source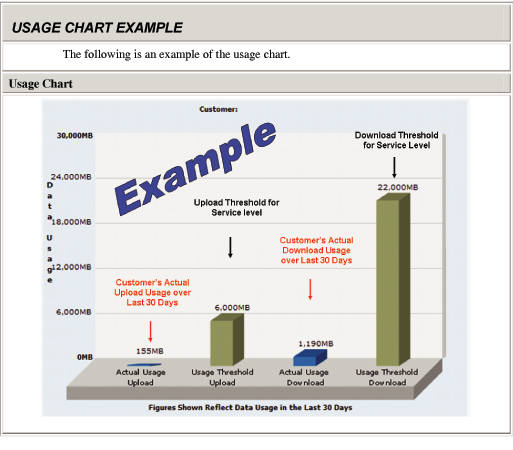 Can I purchase additional Dial-Up service?
Yes, Additional dial-up service can be purchased in increments of 10 hours.